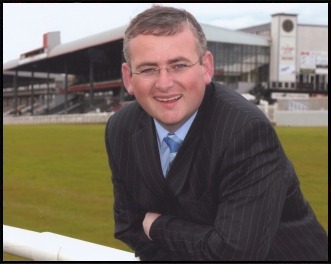 Brian Gleeson started his media career in radio, and quickly moved to television when it was discovered that his gifts for acquiring and imparting information were valuable assets in the world of television. He is a well-known face on three channels on both sides of the Irish Sea, and a familiar voice through his radio work and his voice-overs for advertisements. He began his television career with Oblivion Television, as betting expert on RTE Racing, where his work involved voice over reporting, with occasional pieces to camera.

Brian subsequently began to work for Highflyer Productions when they took over the RTE Racing contract in 2002. His role in the programme became more visual, and he proved himself to adapt very well to the hustle and bustle of the betting ring. His engaging reports from the betting ring established him as one of Ireland's best-loved racing faces. He was then approached by senior figures at the BBC, to do some presenting work for that channel, and works as a guest presenter for BBC Racing on a regular basis.

When Highflyer Productions began work on Go Racing for TV3 in the late spring of 2003, Brian was the first choice as presenter. He soon showed that he was equally at home in studio as he was outdoors, and proved a capable and authoritative host for a programme which surpassed all expectations in terms of viewing figures. Brian became a familiar face on Friday nights to tens of thousands of loyal viewers. Brian continues to work for RTE, the BBC and TV3, and is valued by all three broadcasters for his painstaking attention to detail, his professionalism, and his encyclopaedic knowledge of the world of Irish racing.

Radio
Brian began his radio career with WLR FM in Waterford. He still reports regularly on racing for this station, and also for RTE Radio One.

Print
Brian wrote for many years for the Irish Field on point to point racing. He still writes regularly, covering point to points all over the country.

Voiceover work
Brianís distinctive tones bring a sense of excitement to any event. He provides regular voice-overs for radio and television advertisements, including ads for race meetings at Fairyhouse and Punchestown, and his professionalism has endeared him to commercials producers. He rarely needs more than one take!